New Online Medical/Surgical Store
Click the LOGIN button below to access our new online store.
LOGIN
fan us
follow us
Learn About J & B Medical, Inc..

Thank you for your interest in J & B Medical. J & B Medical was established in 1996 and since has become one of the fastest growing and most successful medical distribution companies in the world.
NEW! J & B Medical Catalog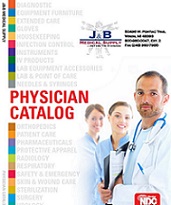 Completely revised and updated. Get yours today!
Product News
10-24-2017 - Metrex has issued a manufacturer's delay on their code MET10-1510 - METREX VIONEX ANTISEPTIC TOWELETTES, 50/Box, 10 Boxes/Case until 12-29-2017. We are recommending substituting this item with Safetec Code SAF34400 - SAFETEC P.A.W.S. PERSONAL ANTIMICROBIAL WIPES Individually Wrapped Towelettes, Fresh Scent, 100/Box, 10 Boxes/Case while the above Metrex item is unavialable.
09-26-2017 - Gaymar has discontinued their item GIISC527 - SOF-CARE PLUS LONG-TERM CARE CUSHION, cushion only. They recommend replacing this item with STKSC840 - STRYKER SOFCARE OVERLAY - Matress Overlay, 73.5 L x 33.5 W x 3.5" as a replacement.
09-08-2017 - Sage Products, Inc. has placed every item they manufacture on delay until mid to late November.
If you're looking to replace item SAG7903 - PROMISE COMFORT BATH CLEANING SYSTEM 44/CASE, we recommend subbing this with a Tena item: SCA65004 - TENA BATHING GLOVE, Scent Free, 8.9" x 5.9", 5/Pack, 225/Case.
08-21-2017 - Product discontinuation alert: BLP623122 - RENU MULTI + 12 OZ. BOTTLE has been discontinued by Bausch & Lomb.
From now on, please order KCP24385029440 - GNP MULTI PURPOSE CONTACT SOLUTION - 12 OZ.
08-02-2017 - Covidien has placed COV3033 - COVIDIEN CURITY GAUZE SPONGES, 4" x 4" Gauze Sponges, 12-Ply, Sterile 2s, 50/Tray, 24 Trays/Case on manufacturer's delay until 10-2017.
In the meantime, please sub orders with DUKC5139 - Type VII Gauze, Sterile, 4" x 4", 12-Ply, 2/Pk, 25 Pk/Box, 24 Boxes/Case
08-02-2017 - Covidien has placed COV6242P - COVIDIEN SORB-IT DRAIN & I.V. SPONGES 4" x 4" Drain Sponge, Sterile 2s, 6-Ply, 50/Tray, 12 Trays/Case on manufacturer's delay until 09-2017.
In the meantime, please sub orders with DUK7470 - Sterile, T-Drain Sponge, 4" x 4", 6-Ply, 2/Pk, 25 Pk/Box, 12 Boxes/Case
07-24-2017 - Covidien has placed COV6242P - COVIDIEN SORB-IT DRAIN & I.V. SPONGES 4" x 4" Drain Spong, Sterile 2s, 6-Ply, 50/Tray, 12 Tray/Case on backorder, with a tentative release date of 08-03-2017.
In the meantime, please order Dukal code #DUK7470 - DUKAL IV & T-DRAIN SPONGES - Gauze Spong, 4" x 4", Sterile, 6-Ply, Trach Drain, 2/Package, 50/Box, 12 Boxes/Case
07-07-2017 - Please note contracted item FOU15408 - FOUGERA HYDROCORTISONE, Cream, USP 1%, 1.5g Foilpac, 48/Box has been discontinued by Fougera and Company.
We are now offering a replacement made by Dynarex for the same price - DYN1173 - DYNAREX HYDROCORTISONE CREAM - 1%, 0.9g Fil Packet, 144/Box, 12 Boxes/Case
06-15-2017 - Please note Covidien 60CC Catheter tip syringes are on delay from Covidien until 11-22-2017
COV1186000444T - MONOJECT SOFTPACK SYRINGES, 60mL, Catheter Tip, Sterile, 30/Box, 360/Case
We have tried to source other vendors for these as well, but there is a national shortage on 60cc catheter tip syringes right now.
We are able to obtain 35cc catheter tip syringes, if you can use those:
COV8881535770 - COVIDIEN MONOJECT SYRINGES 35mL Syringe Only, Catheter Tip, Irrigation, 30/Box, 6 Boxes/Case
06-09-2017 - Please note the COV3033 - 4" x 4" Gauze Sponges, 12-ply, Sterile 2s, 50/tray are currently on a manufacturer's delay until 08/09/2017. Please sub these with another gauze sponge made by Covidien:
COV441000 - Dermacea Gauze Sponges, 4" x 4" STE 12-PLY 2's, 2/package, 50/box
12-22-16 Please note the male urinal items you currently order from us are on an extended backorder:
MAIH140D-01 - MALE URINAL NATURAL W/COVER
DYN4229 - DYNAREX MALE URINAL, 50/Case
We have obtained another version for you to order out, please use item on your future orders: 
GMAGP300 - Male Urinal, with Lid, Translucent, 48/cs 
7-6-16 Welch Allyn - WEL05031-101 replaced with WEL05031-750 250/Box 7500/Case ( More Info )
11-19-2015 COVIDIEN – BACKORDER- COV7539LF, Telfa Island Dressing. Expected to be available 12-4-2015. ( More Info )
4-9-2015 SEMPERMED – BACKORDER- SEMNIPFT204 Nitrile gloves, Large. Expected to be available early August. ( More Info  )
2-12-2015 COVIDIEN – SYRINGES DISCONTINUED ( More Info  )
12-11-2014 GSK – CURRENTLY NOT AVAILABLE ( More Info )
9-12-2014 Abbott Nutrition Discontinuation of Ensure High Protein. ( More Info )
9-2-2014 COVIDIEN Monoject Safety Hypodermic Needles & Syringes Discontinued. ( More Info )
8-27-2014 The item number for COV634/40 has been changed to COVEC89685. No changes to the physical product; just item number correction.
6-1-2014 Pediasure Sidekicks Discontinued ( More Info )
5-29-2014 3M MEDICAL – CAVILON EXTENDED BACKORDER ( More Info )