J&B Medical is proud to be recognized at the upcoming 2020 Best of MichBusiness Awards taking place virtually on December 8 and 9. J&B is being honored under the Best Small Business category for the hard work and dedication our teams have displayed during COVID-19 to ensure our customers received life-sustaining and essential medical supplies and for our "outstanding leadership in a time of crisis and social and economic uncertainty."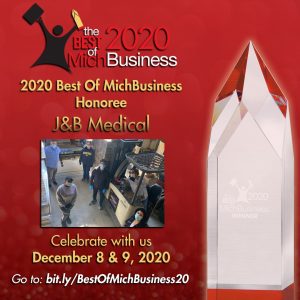 In addition to ongoing operations as an essential business, J&B Medical assisted the State of Michigan with setting up satellite COVID-19 care facilities and supplying PPE to healthcare establishments which were recognized by Governor Gretchen Whitmer during a press conference.
Charlene Shaya, J&B Medical's Chief Operating Officer, says: "J&B Medical is proud to be recognized for our work during the ongoing COVID-19 crisis by MichBusiness alongside several incredible Michigan businesses. The well-being of our customers and employees is of the utmost priority. We strive to serve our community the very best we can no matter the circumstances."
Thank you to MichBusiness for this honor! We also extend a resounding thank you to everyone who has stepped up, served and saved lives during this unprecedented time.