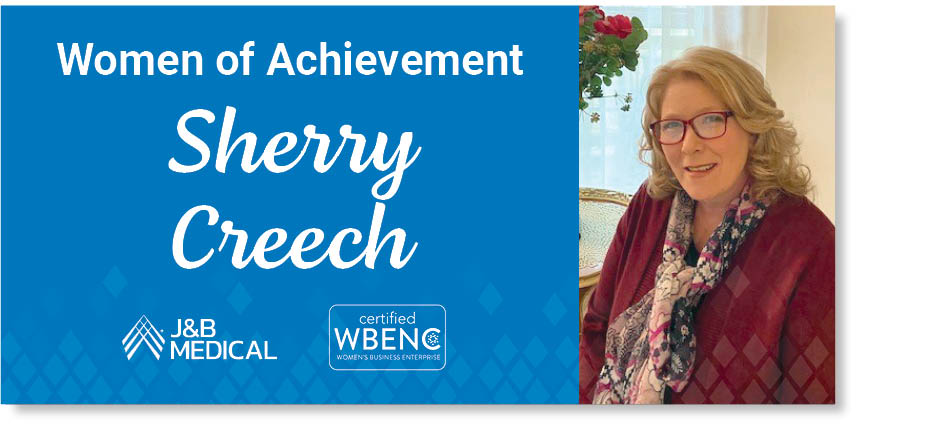 What/who has been inspirational for you personally or professionally?
I have been most inspired personally by my husband. In 2001 he became very ill and was diagnosed with an aggressive form of leukemia. He was started on a long 2-year protocol of chemotherapy, radiation, spinal taps, and never-ending appointments and follow-ups. The treatments and medications worked, and he entered remission; however, the high doses of corticosteroids for treatment caused his hips to develop avascular necrosis (AVN). Soon after the end of the protocol, he underwent hip replacement surgeries at the age of 37. His unbelievable courage, positive attitude with all he had to endure, and faith in God inspired me. This gave me the strength to go through my serious illness a couple of years ago with a positive and hopeful attitude.
What has been your best accomplishment or the proudest moment throughout your career?
I started working when I was 17 at JL Hudson's department store and had the privilege of working with and learning from so many inspirational managers. I was trained and worked in a leadership position and was part of a committee that established policy and procedures for all new hires in training. After 18 years of employment, I was offered a buyout/retirement package when Macy's took over the business. I was sad to leave, but this could not have come at a better time, I was needed at home. So I jumped at the opportunity to be at home with my family for a while and began my college education to get my degree in business and focus on medical billing coding/transcription. I graduated in January 2010 and started my career here at J&B in March 2010, starting on the new accounts verification team and transferring to the billing department four years later. Like in my previous career, I have been very fortunate to have worked with and learned from so many knowledgeable and professional associates here at J&B over the past 12 years.
What mistake did you make professionally, and how did you overcome it and learn from it?
When I started here at J&B, I was hurrying and multitasking simultaneously. I sent an Rx for supplies that a member desperately needed to the doctor's office to complete. I had a hard time getting the Rx back, which was holding up supplies. Finally, after four attempts, the Rx was returned, and that is when I realized I had forgotten to put the most crucial supply needed on the Rx. I felt so bad for the member and was disappointed in myself for the unnecessary mistake. Luckily, I could get the Rx back quickly and supplies out for the member. I learned quality over quantity and to slow down and double-check my work. Mistakes are part of our personal and professional life. Past failures can provide growth areas as a professional and as a person as long as we turn a mistake into a positive learning experience.
As a busy professional, how do you take care of yourself and maintain good mental health?
In this busy and, at times, uncertain world we live in these days, it is so important to remember to take care of yourself. I enjoy reading different genres in my spare time, and now that the weather is changing, I look forward to getting back outside more and walking with my beagle, Jackson. I spend as much time with family and friends outside of work.
What advice would you have given yourself ten years ago?
I would have told myself never to take my health for granted "you are not bulletproof." But, to ask for help in times of weakness or need and remember each day is a gift from above. Make each day count, spend as much time as possible with the ones we love, and not take life so seriously — breath, laugh, and relax! Stop worrying so much. Everything will be ok. Plan for the future but live for today!