J&B Medical Ohio – Healthcare Division Manager Mark David pictured with the Buckeye Bullet Dave Blaney.
The energy of the Eldora Speedway in New Weston, Ohio was felt well into Monday morning as members of the J&B Medical team shared their experiences at the 36th Annual Kings Royal Sprint Car races over the weekend. With Eldora Speedway being owned by legendary NASCAR driver, Tony Stewart, we were proud to make our mark by sponsoring racer Dave Blaney, also known as the "Buckeye Bullet." The J&B logo was proudly displayed throughout this four-day event from July 17 to July 20, 2019.
"I was somewhat skeptical of taking a Saturday night off from my family to go on a long trip to a place that I didn't even know existed. I can honestly say this was a fantastic experience!" Mark David, J&B Medical Ohio – Healthcare Division Manager.
Although Dave didn't qualify for the main event this year, he has won the grand prize twice previously, making him one of the most-watched racers on the track. Dave's sprint car, race suit, and special Dave Blaney t-shirts had the J&B logo on display. Race fans lined up at our staffed J&B tent to collect signed "Hero Cards" from the Buckeye Bullet himself. The cards included a special coupon from us, giving fans up to 85% off of prescriptions at participating pharmacies. In just four hours, more than 1,000 Dave Blaney "Hero Cards" were handed out!
Our participation was made possible by our partnership with Matthew Henninger at Wicked Cushion, allowing us to be a part of entertaining loyal race fans everywhere.
"We at J&B are so proud of the amazing opportunity to be involved in this year's Kings Royal! Our staff had a great time and we look forward to joining more events in the future!" – Stephen Shaya, Medical Director, J&B Medical.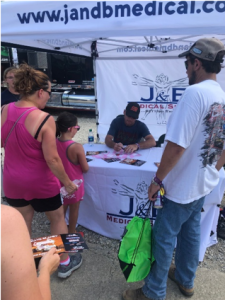 Dave Blaney signing "Hero Cards" at the J&B tent.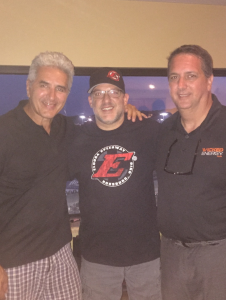 (Left to Right) J&B Employee Mark David, Eldora Owner/NASCAR Driver Tony Stewart, Wicked Cushion Managing Partner, Matthew Henninger.