At J&B, we believe in giving back to the community we serve. One of our initiatives each year is working with the American Diabetes Association to raise funds and awareness for this incurable disease. 200 of our employees, with their family and friends, are participating in the Tour de Cure Marathon this year as J&B "Team Dia-Beat-This." You can read our latest blog about the event here. As we grow as a company, we're also growing as a team, working together to reach a company-wide fundraising goal.
We empower our employees to get involved in a positive way; our team created fun ways for our employees to get involved in raising funds for the ADA. Various events and activities kept everyone engaged, excited, and motivated.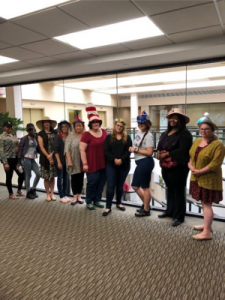 Some of our efforts included loose change being collected in our ADA change cans and passed around the office; t-shirts, pizza, and ice cream being sold, and employees also participated in a hat day — which they could pay $1 to wear a hat for the day, with the grand prize for the most creative hat being awarded paid time off.
"It's really amazing to see the commitment from our team to improve the diabetic community.  It's been enjoyable to watch this program take off!" – Charlene Shaya, J&B Medical
We couldn't do this alone — J&B has had great partnerships to help us along the way! Our friends at Rose Vending gave us $100 towards our fundraising efforts in addition to donating 20% of sales on all healthy drinks in our J&B cafeteria for the entire month of August. We are also grateful to our partners at Prevail for sponsoring the J&B "Team Dia-Beat-This" activities! We always look forward to the opportunity to work with the ADA to improve lives and work to further awareness and education in order to prevent diabetes.
If you are interested in participating along with us or would like to donate to the American Diabetes Association, head to our official event page!